Submitted by Katherine Pankratz on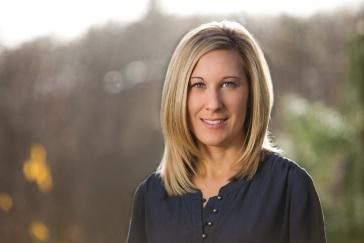 We're very excited today to congratulate our own Nicole Gray for being honored as an Association Forum of Chicagoland's Forty Under 40 recipient for 2015! Nicole is VTM Group's President of Management & Logistics, the internal division comprised of Event Management, Financial Administration, Initiatives & Alliances, Membership & Licensing, and Web Services. Below is an interview she completed for USAEnews highlighting the 2015 class of honorees. Congratulations, Nicole!
How do you feel about having achieved this distinction?
Incredibly honored! Like many others, I stumbled upon the association industry nearly 15 years ago, and I have thoroughly enjoyed the many growth opportunities, challenges, and people that I have met along the way. It's humbling to be recognized for doing what I love.

What attracted you to the association world?
I have the pleasure of working within a niche market in the industry—high-tech standards.  The ever-changing atmosphere of technology encourages constant growth and opportunity, which is one of the things I love most about my role. My experiences in the association space center on partnership with a diverse group of people—engineers, attorneys, and marketers—all of whom are at the forefront of advancements that change the way people live, work, and interact. This opportunity excites me daily and is a significant factor in my continued support of associations.

Who would you consider your primary mentor and what have you learned from him/her?
The person from whom I've learned the most during my career is Reen Presnell, who has been my manager and mentor since I started working at VTM in 2002. He has taught me many a lesson over the years, but the one that stands out is to always put the team first. If you take care of the team in turn they will take care of the client and the company. I take great pride in management of my team and the relationships we've built. By continuously listening to my staff, looking out for their best interest, and working together toward a common goal, they in-turn commit to the overall mission of the organization and our clients.

In what way would you like to mentor a young association person in the future?
I have been fortunate to serve as a mentor to many young professionals both within VTM and outside these walls. I value every one of these opportunities, because it allows me to learn from and connect with a young professional at a critical time in their career. It's such an exciting time in their journey and I love being a part of it!

Mentorships are built on trust and I've found it critical to truly listen to individual experiences as you build that relationship. I want to listen to their hopes. Listen to their fears. Listen to their dreams. And then provide the guidance and insight available to help them on their path.

What's the most important thing you've learned so far?
Hands down, the most important thing I've learned thus far is that it takes a village. It's not without a team of amazing leaders that I can manage a division of 50 people. It took me a long time to really understand the importance of delegation as a necessary component to personal and professional growth. Thankfully, I've worked with my team for many years and we've come to understand and balance our strengths and weaknesses.

What's a short-term or long-term career goal of yours?
A short-term career goal of mine is a focus on expanding my skillset within executive leadership of consortiums. I enjoy the challenge of providing consultation to new organizations in addition to mature associations going through difference phases in their lifecycle. Each client presents a new, exciting challenge, and I want to continue to refine my skillset in support of their needs.

In looking longer term, I hope to sit on the Board(s) of association industry organizations myself. Currently, I serve on the Board of the Oregon Society of Association Management (OSAM), which has provided a completely different viewpoint for me. I am used to supporting and facilitating Board members in their role, so it's been enlightening to sit on the other side of the table. I look to expand my Board portfolio and seek additional opportunities to serve in this role.

Why do you think it's important to bring more young people into the association world?
Today's youth will be tomorrow's leaders in the very near future. I encourage current thought leaders to mentor the next generation; arm them with the tools and experiences necessary to provide innovation and boundless thinking that could really challenge the way associations run today. In turn, this will excel future membership growth and continued success in the industry.

What would you say is your biggest accomplishment to date?
My time with VTM has been bolstered by growth as a result of hard work and dedication to the industry. I began as an Account Coordinator assisting on client projects and worked my way up to now lead the largest division in the company comprised of over 50 staff members in support of nearly 50 clients. I also own an expanding P&L of $8.5M, which I helped sustain (and even grow) throughout the recent economic recession by client retention and efficient resource management.

My time at VTM has also allowed me to launch and nurture over 20 consortiums all of which have honed best practices, taught me innovative ways of implementing strategy, and enhanced my networking skills to capitalize on new business opportunities. Most importantly, however, they have provided skills and experiences that allow me to offer mentorship and management to my team.

What would you say has been your biggest challenge to date?
The most recent economic downturn was easily one of the toughest challenges I've gone through in my career. Working in high-tech trade associations meant we didn't feel the burden until later in the cycle, which was a blessing as we had time to plan and reduce expenses where possible. My main focus was twofold: maintain current clients and provide financial stability for staff. By working as a team, we were able to maintain our current client load (even capturing some new business!) and avoid staff layoffs.

It was a very proud moment for me when announcing to staff that we were able to grow and achieve success in such a trying time due to our diligence and hard work.

What advice would you give to a young person entering or thinking about entering the industry?
First and foremost, there are so many opportunities within the association industry! Consider whether you want to commit to working for one organization or many. If the former then working for an association management company is one of the best ways to gain a range of experience and skill set. The opportunities that present themselves when working in this environment are limitless. Believe in yourself and enjoy your enjoy!