Submitted by Morgan Fricke on
Although there are a variety of reasons why a company or group of companies may choose to form an industry association, the underlying reason is typically related to the collective benefit that comes from the desire to advance and propel a technology within the industry. Forming an industry association provides a neutral environment for competing companies to expand a technology that will better serve the industry, as well as their respective companies. Companies who may be interested in forming an industry association reach out to VTM for guidance and information on the process, benefits, costs, and more.
Our role as an association management company necessitates that we act as a neutral third party for our clients. As a neutral third party, we provide unbiased guidance in developing budgets, outlining membership levels and benefits, working through policies and procedures and providing suggestions for governing documents and overall organization success. With our neutrality and reputation as industry consultants, many emerging organizations come to VTM for guidance and consultation on how to move their mission forward. As consultants and experts in the high-tech association management space, we are able to leverage 25+ years of collective knowledge to help these organizations determine whether to move forward, and how to do so. Since the beginning of this year (2020), we've received 10+ inquiries from organizations considering formation – that's more than 1 per month! Although each group is different, our familiarity with the incorporation process, experience in the tech industry, knowledge of membership processes and benefits, and understanding of the organization lifecycle, makes it easy for us to immediately provide guidance and help organizations move forward.
Starting From Scratch
It's not unusual for us to receive an inquiry along the lines of "I know you work with xyz organization. My company is interested in forming an industry association. What do I need to think about? Can you help me?"
Our response: "yes, absolutely!"
In these situations we'll spend time learning about the concept for the organization, including the problem statement, objective, value to the industry, potential participants, and operation plans. We'll provide guidance based on past experience, including what has worked well/what hasn't worked well, considerations to think about, and help assess whether all the pieces are in place to move to the next phase. Once an organization has determined they want to move forward, achieved buy-in from initial participants, and secured funding for incorporation, we help the rubber meet the road.
VTM has a wealth of experience and resources to help you determine the best option for your situation. We've been working with and forming industry associations since 1995 and have helped countless organizations evaluate and determine their path forward. We're also proud of our client retention rate; clients who work with VTM during formation have chosen to stay with us throughout their life cycle.
Launch Success Case: OpenRF
The founding companies of OpenRF had secured outside legal counsel and were ready to begin the incorporation process when they contacted VTM. We met with the founders to understand the organization goals, objectives, and target member companies, along with their timeline for public launch. Over a 10 month process, VTM worked with OpenRF to:
Drive incorporation timelines
Create a budget and facilitate approval
Review marketing materials and presentations
Create the website
Implement the Causeway Members Only collaboration web tool
Prepare for public launch
Throughout this process we also provided day to day operations, including support for the Board of Directors, 4 Work Groups, drafting and implementation of policies and procedures, vendor management, and financial/bank account set up. As a committed partner in the launch of new organizations, we view an organization's success as our success. When OpenRF publicly launched on October 8, 2020, we celebrated right along with them. We look forward to being part of the organization's future lifecycle and identifying ways we can further contribute to their industry accomplishments.
"The services and support VTM provided during the creation of OpenRF were paramount to its success. Their administrative service portfolio manages a vast array of consortium requirements including working groups, Board of Directors, contracts, membership, marketing communications and a wide scope of general advice. The organization could not have launched effectively without VTM and its dedicated employees." – Kevin Schoenrock, President, OpenRF
Going from Special Interest Group to Legal Entity
Some organizations choose to operate for years as an unincorporated entity, or as a special interest group or subsidiary of an existing corporation. While this format can accommodate participation by other companies and facilitate collaboration, the group is ultimately controlled by the parent corporation.
An organization may decide to incorporate as their own legal entity to provide a neutral and more democratic environment governed by the members. While some of the existing procedures and structure might apply to the new entity, all of the governing documents, agreements, and policies must be rewritten to reflect the new legal structure. With our years of experience in helping organizations through the formation process, VTM is able to recommend best practices and provide example documents and templates to help expedite the process.
Launch Success Case: Z-Wave Alliance, Inc.
Z-Wave Alliance chose to incorporate in 2020 after 15 years as an organization, most recently as a subsidiary of Silicon Labs. VTM was originally contacted by Z-Wave Alliance about membership services and financial administration support due to restructuring of their direct staff. During the internal restructure process, Z-Wave Alliance and its parent company Silicon Labs decided that the Alliance would restructure as a non-profit corporation. This change would allow the Alliance to continue to develop the Z-Wave standard under a new member-driven structure made up of workgroups and committees to continue technical, certification, and marketing development.
VTM was asked to engage throughout the incorporation process which included:
Facilitating meetings with the founding companies and legal counsel
Drafting organizational documents
Recommending policies and procedures
Providing guidance on membership benefits and fee structure
Creating and executing a project plan for messaging the changes to existing members and transferring them to the new organization. With over 650 members, this was not a small undertaking!
Review marketing materials and presentations
Create the website
Implement the Causeway Members Only collaboration web tool
Prepare for public launch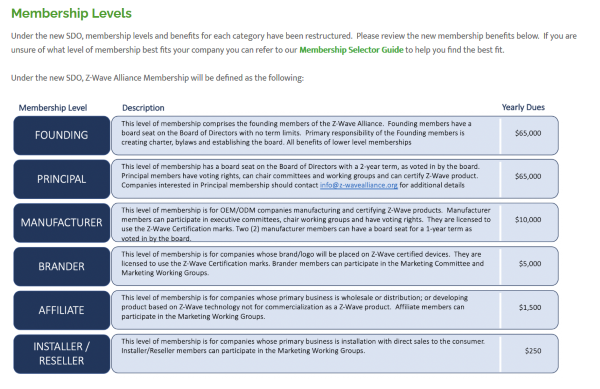 With the incorporation phase complete, and the membership transition nearing completion, VTM is now assisting Z-Wave Alliance with the launch of its Committees and Working Groups. Z-Wave Alliance uses VTM's Causeway as a membership collaboration platform to facilitate the participation in these groups and to provide secure areas for sharing files, engaging in discussions, sharing calendars, creating wikis, voting, tracking task progress, and more. VTM will directly support many of the groups on an ongoing basis including scheduling meetings, coordinating agendas, taking meeting minutes, tracking attendance for voting rights, and assisting the group's chairperson as needed.
"The process of creating a new SDO is a daunting project, requiring attention to an inordinate amount of tasks, details and moving parts. VTM has made this undertaking smooth with terrific guidance, attention to detail and polite "pushing" to ensure the timelines are met and all aspects properly handled." – Mitchell Klein, Executive Director, Z-Wave Alliance
Are You Ready to Take Your Idea from Inception to Launch?
While the launch process for a new association can be complicated and time intensive, it does not need to be overwhelming: VTM is here to help! To request information on how we can help you navigate the formation and launch of your new organization please contact us at info@vtmgroup.com. You can also check out our Resource Center to learn more and read VTM's whitepaper, Partnering with an Association Management Company.